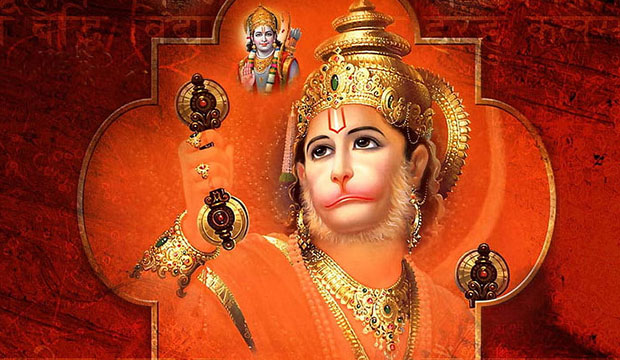 Lord Hanuman is one of the greatest God in Hindu Dharam. He has a boundless strength. He is easy and empathetic besides he is very powerful and fearless. He blessed plentiful benefits to his devotees. Hanuman puja makes a person strong, fearless and determine in his life.
Lord Hanuman is a 11th incarnation of Lord SHIVA and is regarded to be an example of determination , strength and devotion. However He is a great devotee of Lord Rama and a divine Vanara (monkey) associate of Lord Rama (Avtar of lord Vishnu) in the story of RAMAYANA.
Who is Lord Hanuman?
It is believed that when Lord Vishnu took birth, in the form of Ram to vanish, the greatest demon king Ravan, the other Gods also born in monkey and bear races to help him. God Sheshnag and Lord Shiva incarnated as Lakshman and Hanuman respectively. He was born on the full moon day (Purnima) of the month Chaitra on Tuesday. That is why, every year when Chaitra month's full moon day arrives, his birth-day is ceremonised, which is called shri Hanuman Jayanti and Tuesday is considered very auspicious day to worship Hanumanji. Hanuman Puja is dedicated to God Hanumana. This online puja cures all illness and gives a person courage to fight the illness and gives peace of mind.
It is believed that Lord Hanuman is still alive and also Famous as Chiranjeevi -- means immortal.
Benefits of Hanuman Puja
Worshipping Lord Hanuman makes a person fearless and strong, he will get rid of Ghost and Evil Spirits.
Saturn/ Shani bad effects get decrease by worshipping lord Hanuman and it reduces the ill effects of Sade Sati.
Beneficial to get physical power and inner strength.
Get relief from the disease and have a long healthy life
The devotee will be blessed with courage and confidence, his scary and fearful thoughts would be vanished after worshipping Lord Hanuman.
Resolve the Debt issues and problem related to loan.
Get favourable response in court cases/ hearing.
Heals the mental disorder, get an active and energetic life, which leads towards Success.