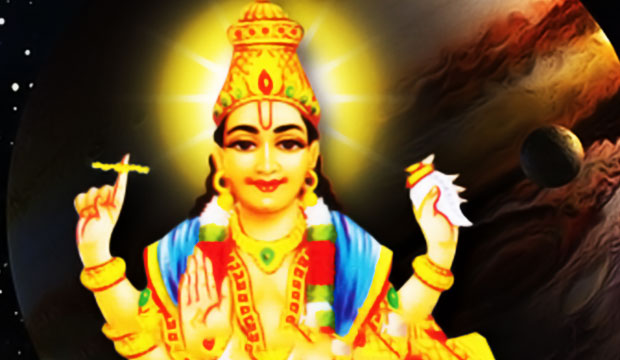 Lord Jupiter is known by many names i.e. GURU, BRIHASPATI or DEVGURU. Jupiter considered as a Bhagwan Brihaspati, in the Solar System. Bhagwan Brihaspati is believed to be Guru/ Priest of GODS/DEV/ SUR (सुर). As a result of which, it's called DEVGURU (देवताओं के गुरु). In Hinduism all week days are dedicated to particular deity. Thursday is dedicated to Lord Jupitar/ Brihaspati and in hindi, it's exclaimed as Brihaspativar or Guruvar (a day of Guru).
Significance of Jupitar Puja
The devotee of Jupiter will receive good health and will get rid from the sin. If a Birth Chart shows strong Brihaspati on favourable condition that suggested prosperity, knowledge, fortune, Spirituality-Devotion, Philosophy and creativity. It also specify fertility to a devotee as Brihaspati is a PUTRA KARAK in Hindu religion. Even though Jupitar has kind friendly and helpful nature. Sometimes it is on Weak position, the condition called as GURU DOSH or WEAK BRIHASPATI.
A weak Jupiter brings negative effects on the life of a person as lack of learning skills, infertility, instability, delay in marriage and bad health. However astrology has remedies to increase the power of Jupiter in Birth chart. Purohit can perform Jupiter/ Brihaspati puja to strengthen the position of Jupiter. Worshipping Jupiter is similar to offering online puja and prayers to all the saint and gurus of universe which gives divine blessings to the Sankalp bearer.
Benefits of Jupiter puja
Blessed the disease free body and purify the mind-soul.
Enhanced the learning skills and knowledge.
improves creative potential of a person.
Access Health and Wealth by hard work and dedication.
Get respected life with all the comfort and luxury.
It is a great protector to save from the evil eye of Rahu, Mars and Saturn.
Get rid from debt.